Premium Products for Premium Cars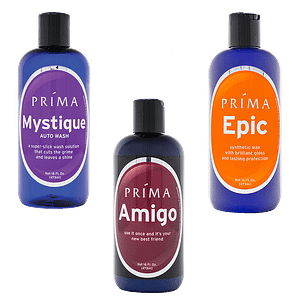 Shop the full line of Prima's exterior car care products. From soap and cleaner to polish and wax, Prima has you covered from bumper-to-bumper.
Introducing the Prima Hydro Wash and Wax System
3 Easy Steps to Maintain a Perfect Finish or Shine!
An auto wash solution designed to safely remove dirt and grime while enhancing the longevity of your paint.
Both leave your vehicle's finish glossy, slick and well-protected. Hydro MAX is the spray version and Hydro Seal is the non-spray version.
A detail spray to remove any excess product, smudges and fingerprints, and adds anti-static properties to resist dust accumulation.
Sign up for Exclusive Deals